Luxembourg: My Ancestral, Adopted Home
My great-great-great-grandfather Pierre Xavier Loesch was alive on January 1, 1900. Born in Luxembourg, the eight-year-old was ushered to the States in 1846. Because of him — because his family sailed him to America; because he, like most Luxembourgers, was stripped of their Luxembourgish citizenship when they left their homeland; because he was alive at the start of the 20th century — I am benefiting.
One hundred and eighty years after Pierre was born, this fifth-generation American through one strand of my mom's family has just become a dual citizen of the United States and the Grand Duchy of Luxembourg.
I was always told that we are, on my mom's side of the family, English, Irish, Norwegian, German, French, and Belgian. My genealogical research during college revealed, though, that our continental relatives were from Luxembourg — not Germany, France, or Belgium. Luxembourg is landlocked by those three countries. The borders of the 998.6-square mile landmass have shifted over time as it has been ruled by Habsburgs then Spanish Habsburgs, under siege by the French, made part of Belgium, and occupied by Germany.
Like so many immigrants, when Pierre left his home country he became an in-betweener, temporarily a citizen of no land. To atone for this stripping of citizenship, the government of Luxembourg passed a law that lets direct descendants apply to "reclaim" their ancestors' nationality during a ten-year grace period that ends this year. One stipulation: The ancestor must have been alive on January 1, 1900.
A few years ago, my mom learned about this law, and that we could seek to reclaim our Luxembourgish nationality. Since then, the two of us have collected birth and baptism records, and marriage and death certificates for each generation back to Pierre. Awarded a certificate of Luxembourgish lineage on June 29, 2017, I traveled to Luxembourg with my mom at the end of last year. We met up with my sister and one of her sons, hand-delivered our documents, and then signed the certificate of reclamation. I've now guided a dozen family members and their children through Phase Two of reclaiming Luxembourgish nationality, a process that otherwise would have cost each person $700.
Awarded Luxembourgish citizenship this spring, I picked up mine and my mom's Luxembourg passports and IDs yesterday.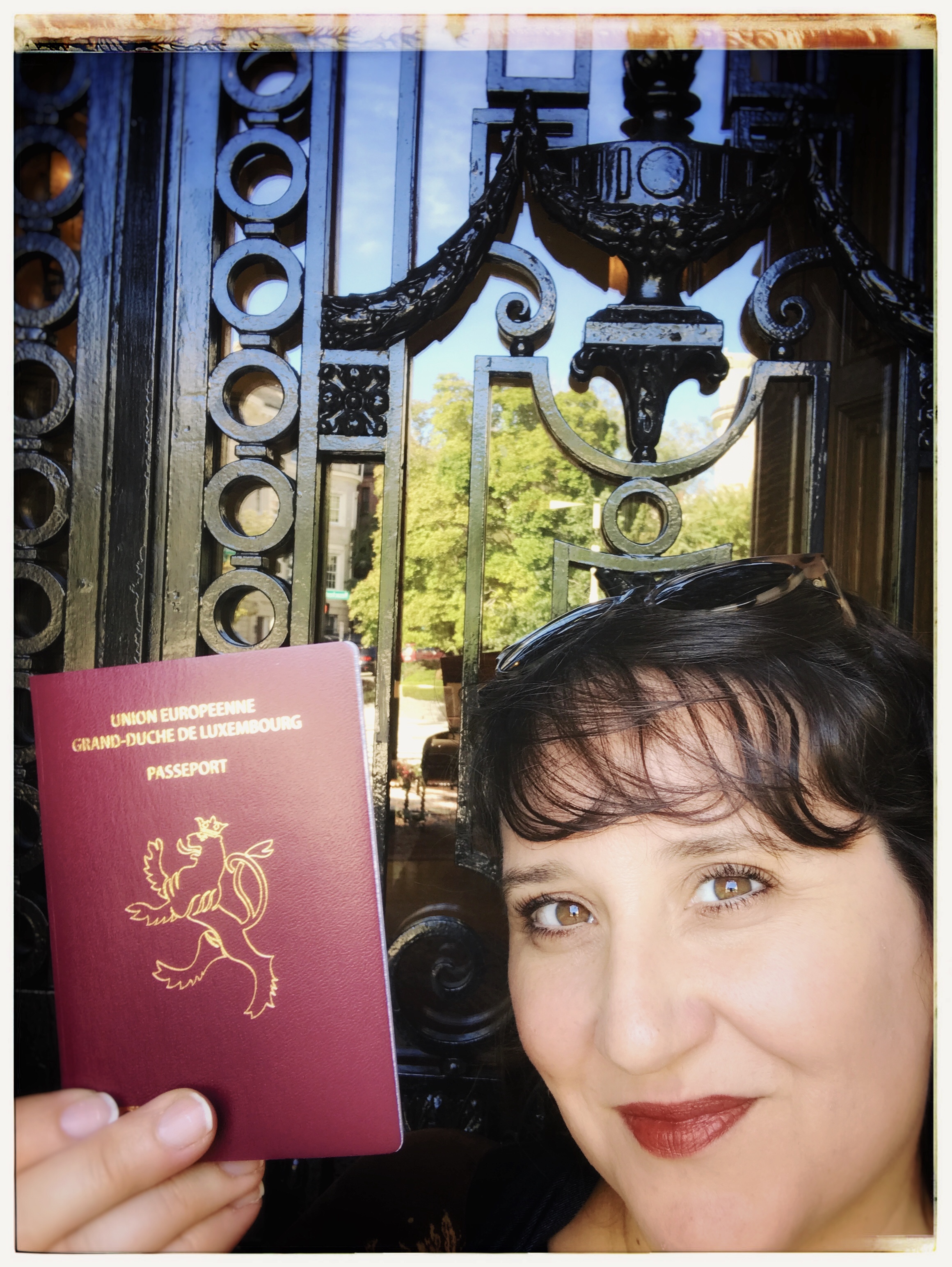 If you need assistance with Phase One or Phase Two of reclaiming your Luxembourgish citizenship, or research on your family history, I am available on a consulting basis.
abbie [dot] reese @ gmail [dot] com
We are (obviously) incredibly lucky to hold dual citizenship in the US and the EU. This is a time of tremendous global upheaval, with as many forcibly displaced people today as during WWII. According to the UN Refugee Agency, 40 million people have been displaced in their own countries; 25.4 million are refugees; and 3.1 million are asylum seekers. Threatened in their homelands, people are risking their lives to reach new shores in pursuit of safety and citizenship.
Luxembourg boasts the highest per capita gross domestic product in the world and is second, behind Qatar, as the richest country per capita. Zero percent of Luxembourg's population lives below the poverty line.
I'll share more in another post my impressions of this charming country that is my ancestral and adopted home.